Greg Lambert Racing and Engineering Newsletter
Updated weekly from the circuit as the races are happening!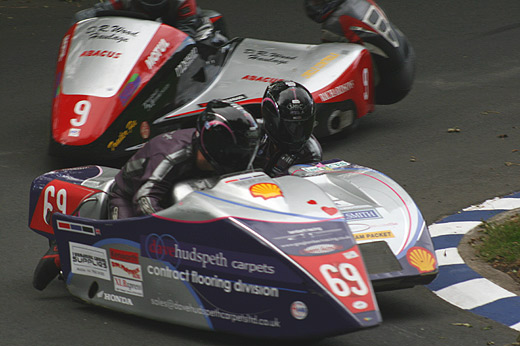 Cracking Start to the 2010 season!
3 Podium wins for Greg Lambert and passenger Jason Slous at Elvington circuit. With the weather showing an upturn so did Team Greg Lambert Racing with a triumphant start. Leading the race and the points table, now Greg and Jason are showing there is no stopping them as they start to go full throttle in to the championship table.
Another triumphant meeting for team GLR
Great weather and a great set of wins for Greg and Jason with two second places, and a one 1st place win team GLR are showing that there is no stopping on the way to the top.
Every Team has a challenge
after setting the F1 bike up on the dyno and not racing it for 3 seasons Greg and his new F1 passenger had a bad start to the day with a DNF in the first race due to F1 not being just right. Greg is one for never giving up and adjusted the bike and took position on the grid for the second race at croft. Landing a 6th place, in race 2 During this time Greg got used to being behind the controls of the F1 sidecar and took formation on the grid for the third race and landed a podium finish in third place. Race 4 Team GLR came 4th place making it a good finish to a good weekend where everyone in team GLR felt good with the results.
Back on form with the F1
Greg and his new Passenger are starting to show that they are on a mission to keep there position on the leader board by bringing out the F1 bike again and showing that they can do what there best at and that's finishing the race in the best podium positions a double 1st place finish this weekend at Elvington shows that they can deliver and will deliver with British F1 championships coming up at Pembrey soon they are already starting to show there odds for success.

Fantastic start to the GB Thundersport Championship
After a four year lay off from GB F1 championship racing Team GLR is feeling the spirit and things in the team are feeling great. With a great start to qualifying in Q1 with securing a second place. In Q2 disaster struck with a rear tyre problem securing still 10th. Running a standard Suzuki K6 engine! Greg feeling confident in being in top 5 of qualifying spirits were high. Race 1 on Saturday went well with a triumphant battle and race greg managed to secure 8th position. Race 2 greg was showing good pace but due to a clutch failure the bike could not finish the race. Overall greg and the Team are showing pace in the sidecar community and with team spirits high Greg is on a battle to secure the championship.